maxswifts

Add maxswifts as a friend

maxswifts will be notified and will have to accept this friendship request, to view updates from maxswifts and their ratings you must follow them.

Remove maxswifts as a friend



About me
I am a field of potential.
About my collections
I've decided that if I really don't like something then I don't have to list it, even if I was in some situation where I saw it. That way I don't have to look at stuff I don't like on my profile.
It's not an attempt to be exhaustive.
.................
On the other hand, I'd like to believe that this sample of my musical and other interests is or will become representative, and this record of the music media and possibly other media that I've supported is proportional to my actual interest in and benefit from them, although surely this is more of an ideal than a completely practical reality.
..........
Music Collection: 1964 to the present, with an emphasis on the 80s and after.
First, pop; second, rock; third, soul.
Edit: And I also like classical music, although I feel weird about it too.
Lists
Recent reviews
Posted : 3 years, 7 months ago on 2 September 2016 10:45 (A review of
Labyrinth
)
I like the virginal beauty of the girl and how that contrasts with the strange fascination of those creatures.

0 comments,
Reply to this entry
Posted : 3 years, 8 months ago on 5 August 2016 09:19 (A review of
True
)
Taylor Swift has talked about the 80s and how the synthpop and new wave of the era has inspired her. There were a lot of bands from that period and, say, A-ha fits more in line with pure synthpop, but Spandau Ballet, I think, has a lot of powerful images of the romanticism of the new wave, not least the name, and the album art. It would be possible for me to get emotional about how all this evolved and transcended the past, but I guess it's enough at the least to say that this pop is a new, European sound.
1. Pleasure
I think it's about how people don't make room for the soft side of life in their heart. 
2. Communication 
Communication is something the speaker struggles with. 
3. Code of Love 
As frustrating as it can be, I think we've all met that girl who simply cannot be understood because she has so much of love about her.
4. Gold 
It could be about claiming your worth even if that happens to be difficult.
5. Lifeline
Love can be a lifeline, something that keeps you alive.
6. Heaven Is A Secret
Sometimes the best things in life are hidden.
7. Foundation 
This could be a build-up to the concluding song. What is the foundation for a relationship, a life? The truth!
8. True 
It's when you've found something beautiful that you can absolutely rely on that your life becomes everything it can be.
And that's something that, like a wedding dance, is both profoundly personal, and a sign of hope for an entire community. 

0 comments,
Reply to this entry
Posted : 3 years, 8 months ago on 4 August 2016 01:40 (A review of
Café Society
)
If you don't want spoilers, you've probably read too much already.
It's a very well-thought out movie, about arguably a quietly painful experience.
It shows you things that you can learn about lots of topics, from what it's like to hobnob with rich people, what it's like to have friends who are Jews, what the Jazz age was like, why violence and organized crime is part of society, what are the limits of what money can buy you, what is the relationship between youth and age, and whether people ever get what they really want out of life, and probably more.
But ultimately I think whether or not you enjoy the movie or merely respect it but still somehow just wish it to be over, is the relationship you have, the stance you take, towards that romantic melancholy at the end.
I would have rated this movie higher to reflect the respect I have for it, but I also wanted to reflect that it broke my heart. 
I guess I would prefer all that happening to absolute stillness, maybe, but still, somehow, it broke my heart.
You have to choose your stance towards the melancholy at the end where you just have to live with your sadness.

0 comments,
Reply to this entry

Posted : 3 years, 8 months ago on 31 July 2016 07:28 (A review of
Lights
)
Awhile ago I wrote a review of Rachel Platten's "Wildfire". No album is perfect, but that album is ideal for reviewing purposes; if I had one word for Rachel it would be intellect. Ellie Goulding's songs are more impressionistic and more difficult to write about; if I had one word for Elena Jane it would be feeling. 
But they're both great examples of singer-songwriter pop, and Ellie's work is more than worth working through the uncertainty. 
Track-by-Track 
(N.B. Apparently this is the US edition, that has "Lights" as the lead track.) 
1. Lights 
This is a good example of an ambiguous song. I'm going to give two parallel interpretations, one that I've heard elsewhere (fame) and one that I've written about somewhere, but God knows where (love). 
I'll take that second one first. Sometimes in love we give up some of our power to get what we need. In this interpretation, Ellie's portrait is one of a girl who just needs to be with her man. The first lines stand out; "I had a way then of losing it all on my own/I had a heart then, but the queen has been overthrown." Other people are a distraction at best, and she just wants to be alone with him: "And I think back to when my brother and my sister slept/In another place, the only time I felt safe." And the lights that "stop" her, he dulls--turns "to stone". 
Alternatively or in addition to that, it could be about fame. (As Taylor Swift has said on different occasions, a famous life is not a normal life.) The lights could be the image of living in photo flashes and the lights of fame. This could add another layer of meaning to the interpretation above.
However, I still don't want to call the review "The Lights of Fame" because I think that even after giving an explanation, the song is still ambiguous. 
I'll be a little briefer with the others: 
2. Guns and Horses 
This is an image of power, and it's about being swept up by somebody, as well as feeling their sorrow. 
3. Starry Eyed 
"Next thing, we touching: you look at me; it's like you hit me with lightning." Everybody knows that everybody gets like that. 
4. This Love (Will Be Your Downfall) 
People tend to take love for granted and to ignore the consequences. 
5. Under the Sheets 
In her fairy, ephemeral way, she is very.... Active. Young. 
6. The Writer 
This is a song about how her real fear is being ignored, but she's not afraid to be somebody's muse, not afraid of being overshadowed by talent; it rescues her from neglect. 
7. Animal 
She's active, and she's romantic. "I have loved a five four and then some, but you are the one...."
8. Every Time You Go 
The message is that neglecting a girl every time you feel like taking off really isn't acceptable. This begins the slide into tragedy of tracks 8-10. 
9. Your Biggest Mistake 
IMO repetition is the epitome of emphasis. Stop running-- that's the mistake. 
10. Salt Skin 
I really think that this is about being British, and not in a good way. At its worst, the whole world just pales out and goes away--and all the false words, false understanding. 
11. Your Song (Elton John cover) 
But in the end, isn't love a fine thing.
I don't really have a conclusion, but, I wrote this out on paper first, and at the bottom I scribbled a note about the American Society for the Prevention of Cruelty to Animals (ASPCA), and I think spamming something heartfelt kinda goes in with the spirit of the album. Listen to it, buy the CD or whatever, support art, and once your done listening to this girl, this kind, pretty person spill her feelings for the world to know, go improve yourself and go make the world a better place. Help people more, fight and judge less-- I know you can do it. We're counting on you. 

0 comments,
Reply to this entry
Posted : 3 years, 8 months ago on 20 July 2016 11:01 (A review of
Oceans
)
If someone were to ask you, What is the ocean, exactly? You could marshal statistics and Latin names to try to explain it, but really it isn't something that you can learn in any book; you have to see it for yourself. 
Take in the quiet wonder of the life and vastness of the ocean. 

0 comments,
Reply to this entry
Posted : 3 years, 8 months ago on 19 July 2016 11:40 (A review of
Cake
)
"That's fucked-up."
"Like you."
If you invest yourself in this movie, you will be driven a little crazy by it, and at some point you'll probably wonder if it's just trying to take you for a ride, just trying to mess up your emotional regulation with no payoff in return, and there are stories like that, but this is not it. There's a payoff. 
You always have a choice of how you live your life. Always. 

0 comments,
Reply to this entry
Posted : 3 years, 8 months ago on 17 July 2016 05:43 (A review of
The Last Five Years
)
I'm the kind of person (if I'm a type at all) who occasionally buys "friendship" cards from the dollar store--"If I had a flower for every time I thought of you"-- so that I'll have it when I get a girlfriend. I'd love to have Anna Kendrick as a girlfriend, since I'd love to have a girl who loves love. But I find that I'm not like other people; nothing makes you seem disjointed and confused like deep love.... I'm not against Tarzan and sorta anthropologist movies, but there's nothing like a song. 
So that's the background, why I watch movies like this. 
Of course, since it's a musical, a lot of the experience has to do with the music, which is a little old-time (in style, although they're new compositions) and jazzy; I'm not sure how I feel about that. I guess since the storytelling style is kinda alternative, bouncing back and forth in time, that's why they wanted the musical style to seem a little grand. 
I was patient with this because I think that something like this is what Anna Kendrick really wants to do, very musical and romantic, and I like the idea too, it's just how it works out, for me, really singing dialogue isn't really the same thing as singing a song with a verse-chorus and everything. 
(Edit) Although the melancholy at the end is nice. I guess that's the point of the trick they play with time.

0 comments,
Reply to this entry
Posted : 3 years, 8 months ago on 16 July 2016 03:02 (A review of
The Legend of Tarzan
)
"And how many men have been enslaved to build your bridge?" 
Told during the days of the white exploitation of Africa, this is basically the story of a European capable of leaving colonial ways behind and embracing the primordial life of the jungle. 

0 comments,
Reply to this entry
Posted : 3 years, 8 months ago on 15 July 2016 11:11 (A review of
Drinking Buddies (2013)
)
The only way I can describe this movie is by saying that it's like one of those Dan Chaon stories from "Stay Awake" where, until the very last line, you have no idea what the story is about. 
In this case, maybe by the end of the credits.... 
It's a very subtle film. I liked it because I have this tendency of being able to figure out what a movie is about before it starts, but this one really demanded a lot of patience, not just in some single plot line that you didn't expect, but really in the totality of the the whole thing you didn't know what it was about until maybe after it was over. 

0 comments,
Reply to this entry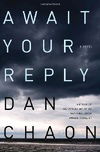 Posted : 3 years, 8 months ago on 15 July 2016 12:16 (A review of
Await Your Reply: A Novel
)
This book is a surprise; it's a surprise in the lives of three people. 
It's about Miles, a young man who seems to spend his life searching after the mysteries of his childhood. 
"Miles's twin brother, Hayden, had been missing for more than ten years, though probably 'missing' wasn't exactly the right word. 
'At large'? Was that a better term?"
It's about Lucy, a girl from the Midwest who wishes that she came from a more cosmopolitan background. 
"Without thinking, she touched the cash to her face, as if it were a bouquet. 'Thank you,' she whispered. 'Thank you, God.'"
And it's about Ryan, a former college student without a clear sense of who he is in the world. 
"'Right,' Ryan said. And then, as the three of them parted for him, as they prepared to fall in behind him, following with their giant tulip cups and their cards and their hopeful, friendly expressions, he made an abrupt feint, a zigzag, pushing himself into the flow of tourists on the sidewalk. 
And then he took off running."
And it's about someone whom all three of them know, but perhaps not fully.... I don't want to spoil it, but I want to prepare you for how awesome it is. 
This novel is about a modern world where people are not always who they say they are. 

0 comments,
Reply to this entry
Movies
TV
Top rated

My tv page

Rated 1 tv

Music
Books
Favorite Authors